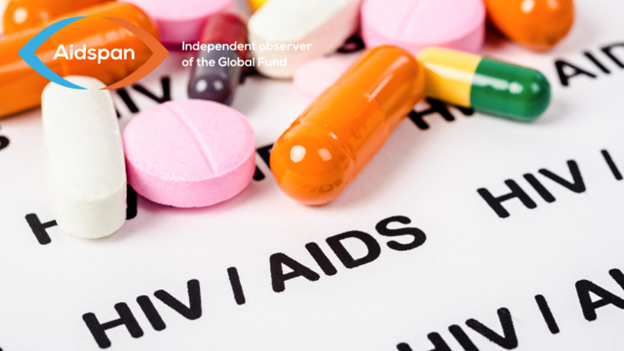 GFO issue 437
Taking paediatric HIV seriously
Author:
Ekelru Jessica
Article Type:
FROM THE FIELD
Article Number: 10
This article is a reminder of the somewhat forgotten or neglected need to make the fight against paediatric HIV a priority if we are to put an end to HIV as a public health problem in West and Central Africa by 2023.
Context
On 1 February 2023, ministers and envoys from twelve African countries (Angola, Cameroon, Côte d'Ivoire, Democratic Republic of Congo (DRC), Kenya, Mozambique, Nigeria, South Africa, Uganda, United Republic of Tanzania, Zambia and Zimbabwe) committed to ending AIDS in children by 2030 and presented their plans to achieve this. The international partners (networks of people living with HIV (PLHIV), the Global Fund, PEPFAR, UNAIDS, UNICEF, and WHO) described how they would help these countries to implement their programs. These plans were published at the first ministerial meeting of the Global Alliance to End AIDS in Children.
This conference, hosted by the United Republic of Tanzania, is a step in the right direction to ensure that all HIV-positive children have access to life-saving treatment and that babies born to HIV-positive mothers are not infected with HIV. In order to achieve the 2030 Goal for HIV, the Alliance will do all it can to encourage progress over the next seven years. Before dwelling on the Alliance's proposed strategy, let us briefly present the current state of paediatric HIV in West and Central Africa (WCA).
Current situation
Paediatric HIV is a major public health problem in the world in general and in WCA in particular. In many ways, it is one of the blind spots in the fight against the AIDS pandemic. According to available data, the prevalence of paediatric HIV is high. Here are some key figures:
By 2020, 300,000 children and adolescents will have been infected with HIV, i.e., one child infected with HIV every two minutes. In the same year, 120,000 children and adolescents died of AIDS-related causes, e., one child every five minutes.
Two out of five children living with HIV in the world do not know their HIV status, and just over half of HIV-positive children receive antiretroviral therapy (ART).
In 2020, sub-Saharan Africa accounted for 89% of new paediatric HIV infections and 88% of HIV-positive children and adolescents worldwide.
In 2019, only 58% of HIV-positive pregnant women in the region were receiving ART to prevent vertical transmission of HIV.
Figure 1: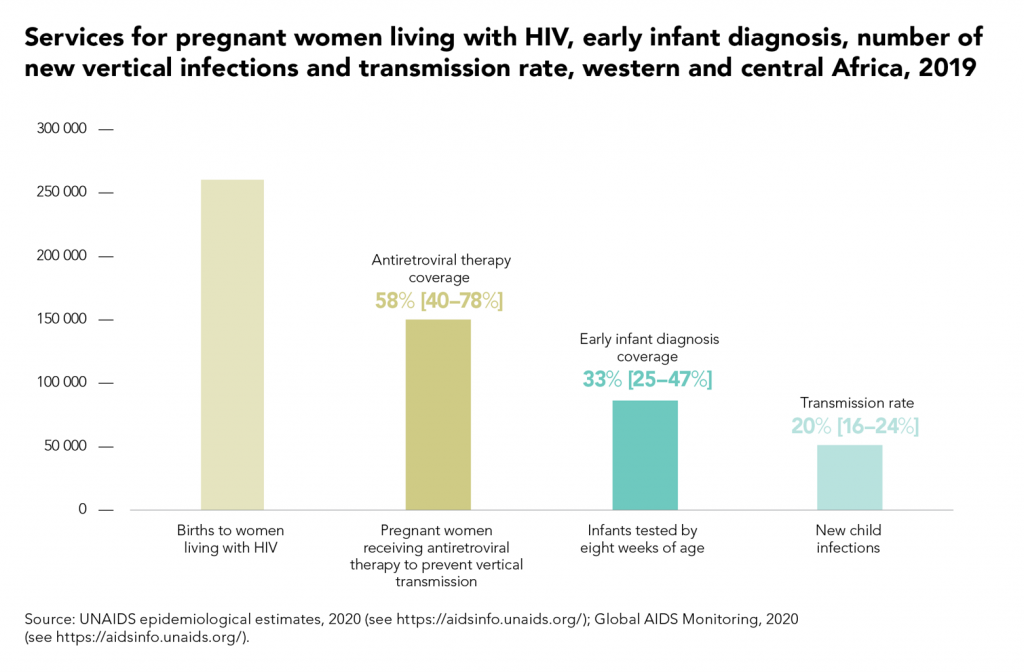 Figure 2. Proportion of people living with HIV receiving treatment, global, 2010-2021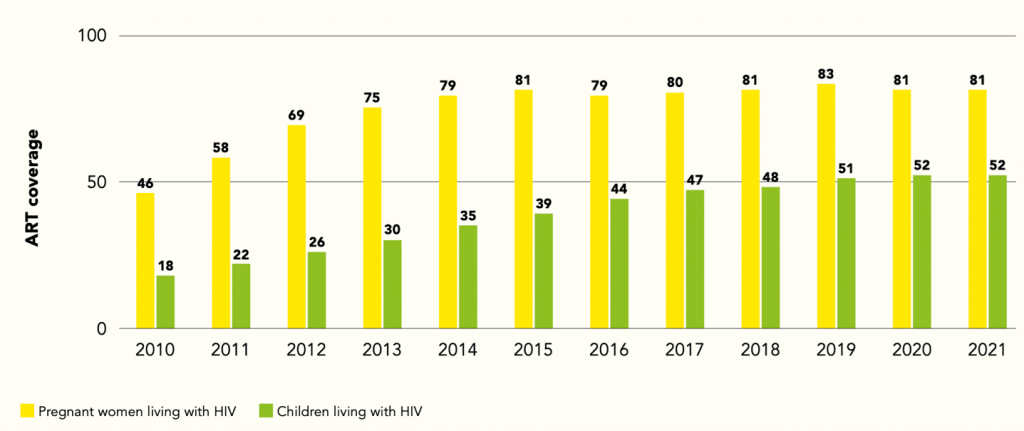 Source: https://www.unaids.org/sites/default/files/media_asset/global-alliance-end-AIDS-in-children_en.pdf
Vertical transmission of HIV, from mother to child, is the main route of HIV transmission among children in Africa. And the factors that contribute to this transmission are many and varied.
Figure 3. Summary stack-bar analysis of the causes of vertical transmission in Africa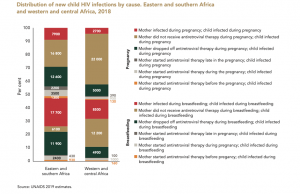 Source: https://www.unaids.org/sites/default/files/media_asset/free-to-shine_advocacy_toolkit_en.pdf, p.10
The impact of HIV on the health of children in WCA
HIV has a significant impact on the health of children in WCA. Here are some of the key impacts:
Child mortality: HIV is one of the main causes of child mortality in WCA. In 2021, around 110,000 children and adolescents (aged 0-19) died from AIDS-related causes. Children account for 15% of AIDS-related deaths, although they represent only 4% of people living with HIV.
Stunted growth: Children with HIV often suffer from stunted growth, leading to problems with their physical and mental development.
Opportunistic infections: Children with HIV are more likely to contract opportunistic diseases such as pneumonia, diarrhea and tuberculosis. These diseases can be serious and lead to long-term complications.
Stigma and discrimination: Children living with HIV in Africa face stigma and discrimination because of their HIV status and the negative and deadly image associated with HIV. This stigma and discrimination hampers access to healthcare. Worse still, it can lead to mental health problems such as depression, anxiety, emotional distress and low self-esteem.
Announcing an HIV diagnosis: Telling a child that it has HIV is a difficult and delicate moment. Social stigma and the ways in which HIV is transmitted make the process even more complex. Children who receive a late diagnosis may also face mental health problems.
Adjustment difficulties: Living with HIV causes adjustment difficulties for children. They may experience isolation, fear and uncertainty about their future.
Limited access to care: Access to care for children living with HIV in Africa is often limited due to a shortage of health human resources and poor coverage of health services. This leads to feelings of frustration, despair and distress.
As you can see, children with HIV face specific challenges that hamper their access to care and their quality of life. Much remains to be done to eliminate paediatric HIV, and recognizing the importance of this is why the aforementioned countries and international partners met in Dar es Salaam in February and made a commitment: not only to review their strategies but above all to significantly increase their multifaceted support to put an end to AIDS in children.
Preventing paediatric HIV
Prevention of vertical transmission of HIV in Africa is essential to reduce the number of paediatric HIV cases. Here is the current coverage of prevention of mother-to-child transmission in WCA.
Figure 4. Gains in preventing vertical transmission, Western and Central Africa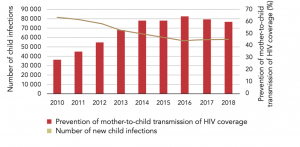 Source: https://www.unaids.org/sites/default/files/media_asset/free-to-shine_advocacy_toolkit_en.pdf, p.2
The backbone of the Global Alliance to Stop AIDS in Children's strategy rests on four essential pillars:
Figure 5. The four pillars to end AIDS in children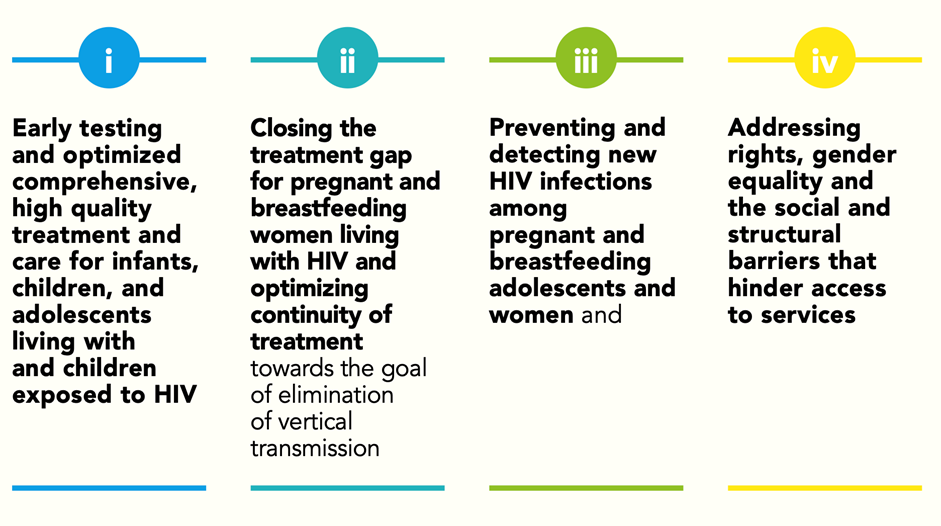 Source: https://www.unaids.org/sites/default/files/media_asset/global-alliance-end-AIDS-in-children_en.pdf, p.6.
As can be seen, Pillar 2 underlines the importance of combating vertical transmission which, as we have mentioned, is one of the main routes for HIV infection in children. In very concrete terms, prevention of vertical transmission involves early screening, provision of ART, Caesarean delivery and artificial breastfeeding.
While preventing vertical transmission is an effective part of the fight against paediatric HIV, it is not enough. It also requires a number of other actions. The other Pillars (1, 3 and 4) in Figure 5 already provide an overview. However, we would like to emphasize certain actions that need to be considered if we are to achieve a significant reduction in, or even elimination of, paediatric HIV.
Access to care: Children with HIV need access to quality care to prevent complications and improve their quality of life.
Training healthcare professionals: Training or reinforcing the skills of healthcare professionals is essential to improve the prevention, screening and management of paediatric HIV.
Combating stigma and discrimination: Such action would promote access to care and improve children's mental health and quality of life.
Funding: Funding is an essential component of the fight against paediatric HIV.
Revising the age for testing alone: In almost 38 countries in sub-Saharan Africa, girls under the age of 18 still need the agreement of their parents or guardian before they can be tested for HIV. More generally, a large number of laws require adolescents to have their parents' permission to access sexual and reproductive health services, in particular contraception, but also HIV testing, prevention and treatment. Far from protecting children, these measures leave them vulnerable to a wide range of health problems, as can be seen from the state of paediatric HIV in WCA. The minimum age for HIV testing should be lowered.
All in all, despite the undeniable progress that has been made, there is still a lot to be done when it comes to paediatric HIV. We need to make it a priority. The end of HIV as a public health problem by 2030 (a goal, let's face it, that is becoming increasingly unattainable) will require a relentless and multidimensional fight against paediatric HIV. Will Grant Cycle 7 be up to the challenge? We want to believe so.